Issue Date:

02/01/1999

Dynamite Results
Dynamite Mushing Dogs From Dynamite Director Tracie Audette, Palmer, Alaska
It's January, and the dog racing season in Alaska is well under way.
My brother Mitch Seavey, has had his entire dog team (about 90 dogs) on Dynamite® products for three years now. This summer he added Dynamite® Free and Easy(tm) to his "mix" and the results have been awesome. We have had so few injuries and such fast recovery times on the ones we have had, it is really unbelievable. The dogs have 1,000 training miles so far this season, and I can think of only two dogs that have been sidelined due to injuries. Free and Easy(tm) has totally replaced Adequan injections, as well.
We have also noticed a huge improvement in recovery time after long runs. VVhen they got back from a 120 mile run (with 12 hours rest built in) they didn't even lay down. In fact, they started playing with the puppies that were running around in the dog lot.
Capone, a young lead dog was severely injured on last year's Iditarod in March (torn glute muscle and achilles tendon; and completely non-weight bearing on his left hind leg). The vet said he might be able to walk again, but never run competitively. I gave him 13 Acuscope treatments, put him on SOD(tm) and Ester-C®; then switched him to Free and Easy(tm) when it became available. By mid-July, he was back to work doing summer sled dog tours. As I write this, Mitch and his son Danny are arriving in Minnesota, to run two teams in the 300 mile Grand Portage Passage Sled Dog Race. Capone will be running in the lead!
All that remains of his injury is a slight thickening of the tendon, about a quarter inch long - and not even a hint of a limp.
This sport is probably the toughest testing ground for any product. I think we got us a winner!.
FLASH>>>>>>
Mitch won the Grand Portage Passage Sled Dog Race by more than an hour! That's a bunch on a 300 mile race. Danny was fourth and only a bit more than an hour behind his dad. They were averaging 10 toll miles an hour the whole way and actually were faster at the end than the beginning! My 'baby' Capone led for Danny the whole way. Not one problem. Dyna-Wonderful!!!!
AND more............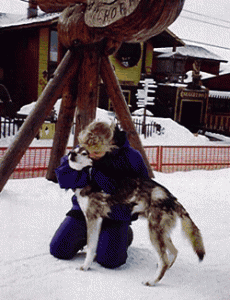 Tracie and Capone - Iditarod's End!!
Sound all the way, a 13th place finish!