All new entries are entered as a Forum Topic.
Creating a topic is very simple, but we would like to first ask that you search the Forum before creating new topics. This helps prevent redundancy and saves you time when you can find an existing article just by searching for it.
To Create a new Forum Topic:
1: Click on Forum
2: Look for a sub-heading under each heading for a title that is aligned with your question or statement.  If you don't see a sub-heading, click on the most appropriate heading.  At the bottom of the page you'll see a box named Create New Topic (followed by the name of the heading or sub-heading).
3: Enter a Topic Title (please refer to our Post Guidelines). Try to keep your Topic titles as descriptive and informative as possible in order to assist others.  Below is the box for entering a new Topic under Feathers, Skin, Claws.
4: Fill in the body of your Topic. This includes your question or topic you would like to discuss. You may share YouTube videos, links to external resources, or any other rich content you would like to share with others.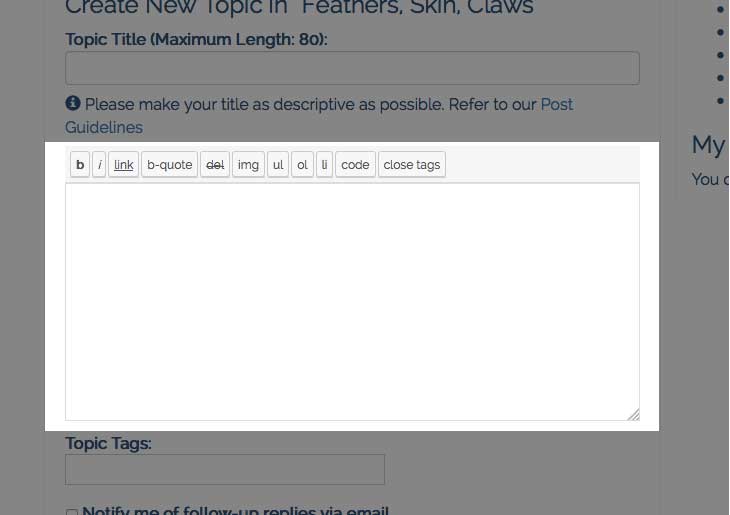 5: You can add some Topic Tags to your post below the description box. Choosing Tags can really help others find your topic later on. Think about what you would search for if you were trying to find this topic yourself. Include those terms in your Topic Tags. Enter the tag or tags separated by a space.
If you would like to be informed of replies to your topic by email, then check the notification box, then click on the "Submit" button.