Issue Date:

05/02/2000

Dynamite Results
A "New" Cat with Dynamite® Help! From Dynamite® Customer Joan Fury, Morgan Hill, CA
My daughter and Dynamite® Director Pam minded my cat Ashes while I was away on a cruise and also waiting to move into my house here in Morgan Hill. Ashes has always had a bad breath problem, she did not wash herself "like a cat should," she had dandruff and her rear end smelled. Pam said that she would get Ashes back to normal with the Dynamite® treatment. Ashes was eating canned cat food along with dry cat food.
Pam had Ashes for about four weeks. She changed Ashes diet to the Chicken/Rice Dog Food (I was so surprised that this is a great cat food, too!) and regular tuna fish which was supplemented with Dynamite Purrrformance(tm)(the nutritional Supplement for Cats). She sprayed Ashes with the tea tree oil, very diluted. Pam also used the Dynamite Dyna-Shield(tm) Natural Fly and Insect Repellent.
Well, let me tell you when I came back I found a totally "new" "clean" cat. Ashes' fur was very smooth and there was no more dandruff...Ashes did not
smell anymore....and Ashes even started taking pride in her body and started cleaning herself. I guess she did not even like her old self, smell-wise...but her new self, now that is a different story.
Ashes had been an outside cat when I lived in Southern California. Now, she still is an outside cat during the day...but at night I take her in and she sleeps on the bed...No more smell, no more dandruff. Amazing! So, my friends, keep up the great work!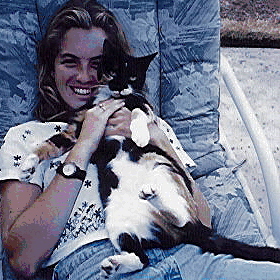 Pam and Ashes, feeling fine!