Issue Date:

09/02/1999

Dynamite Results
28 Year Old Show Mare! From Dynamite Senior Director Tracie Audette, Palmer, Alaska
I wanted to share this picture of my seven year old daughter Halle` and our 28 year old mare, Belle, showing this May (1999) in Walk Trot. Belle eats Dynamite® Pelleted Grain Ration, regular Dynamite®, DynaPro(tm), Free and Easy(tm) and the Free Choices to keep her going strong. There are days we still have to longe her before Halle` rides her to "take the edge off". This horse is ridden more than any other horse on the place -- remember when you were seven?! Halle` takes Dynamite® for Adults and Children, Elixir(tm) (straight from the bottle - brave girl!), and Cell Mend(tm) daily.
When Belle "came back home" 3 1/2 years ago, her back was so low she needed 3 thick saddle pads just to get the saddle balanced. Now we use one regular western pad with a bit of lift behind her withers and she is perfect. We started noticing a big improvement in her back when we added an ounce of Izmine(tm) about 3 days a week to her feed.
Belle is a priceless member of our family and a shining (and shiny!) example of creating better health at any age. She has helped me show owners of other "geriatric" horses that old age is not an excuse for poor health. It is never too late to start "staying young"!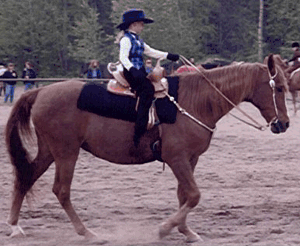 Halle` (age 7) and Belle (age 28)