Issue Date:

01/01/1999

Dynamite Results
A Champion Again at Age 24! (Founder Recovery) From Dynamite Supervisor Catherine Zidell, Dallas, TX
Last August (1997) 1 was considering reshoeing my 23 year-old Arabian stallion, Zamano Morafic+, and showing him again. Every year we would say we will retire him but he would show us he still had the heart of a five year-old. After deciding to plan the next show he showed signs of lameness. For two weeks he wanted to run and play and go on trail rides but his limping got worse until one day I got a call from the vet saying he had rotation. The founder occurred from possibly being trimmed too short.
Already familiar with Dynamite® products, I called Dawn Saunders. She immediately came to my rescue along with Donna Pettit. Together they "tested" him to see what products would ease his discomfort and restore him.
We started right away withEster-C®. MSM(tm) and Excel(tm). I had already used Dyna-Pro(tm) but ran out and had failed to reorder so we incorporated it and Dynamite® Vitamins. We flooded his system three times daily for two months.
It was touch and go and for the first two weeks I had three vets look at him. After several opinions we just tried to make him comfortable and wait it out. He could hardly stand up because of all the weight on his hind legs, which have arthritis. He responded instantly to the supplements I Then after getting better he took a turn for the worse. We could only suspect an abcess. With lots of love and continual soaking, the abcess did come through. We could only assume this because he started showing signs of improvement again.
Zamano has always been a "ham" and a performer. He craves attention and will do all kinds of amusing tricks to get it. One day, before going to a show with my other stallion, I turned Zamano out in the arena to get exercise. He broke loose and started running and jumping and kicking up his heels. then he ran up to the fence, reared, and when he came down he just looked at us and stuck out his tongue!
His progress is better every day and I think I will actually ride him soon. We continue with the supplements, but use less dosage. I also incorporated some Dyna-Hoof(tm) into the program and feel it has helped his hoof get stronger.
All my horses are on Dynamite® products now and I have become a Distributor. I could not have any better proof that a product works. Zamano's progress has made believers out of everyone who was skeptical of supplements. Thank you Dynamite®!!
I also want to note that before the founder Zamano had chronic colic. Pulling a hook tooth, changing his feed and putting him on Dyna-Pro(tm) changed all that. That was my introduction to Dynamite®. It never ceases to amaze me, how incredible these supplements are.
NEWS FLASH!!
Dynamite® horse wins Championship at 24 years-old!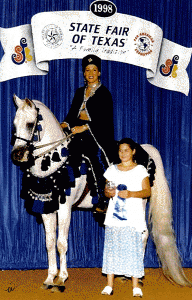 Just an update on Zamano Moraflc,+: After his miraculous recovery from severe founder last year (thanks to Dynamite®), Zamano was shown in Arabian Native Costume at the State Fair of Texas this past September (1998) and won the overall Championship (pictured). This class requires the horse to walk, canter, and hand gallop, and this he did eagerly! It is his favorite thing to doll!! He is a crowd pleaser and favorite and everyone couldn't believe his age or the fact that he foundered last year. He is a walking testimony to Dynamite®.