| | |
| --- | --- |
| Issue Date: 05/28/2000 | Dynamite Results |
Amazing Omner's Whole Story -- Omner is soon to be a Breyer horse!!
From Dynamite® Director Beverly Gray, Park City, Utah:
(written in 1992, see updates at the end!)
Omner lived ... I consider him a gift to share his story and offer strength, hope and awe to those who need some "magic" and Dynamite® in their lives. He will be the next Breyer model horse, as an inspiration for children with cancer!
Few people are offered the blessing of a second chance after a brush with death. My involvement with Dynamite® Specialty Products was a direct result of a dramatic and emotional experience with Omner, my Anglo-Arabian endurance horse. At the 1991 Race of Champions Omner became seriously ill, would not respond to medication, and was later diagnosed with a gallon-sized tumor over his kidney. He was not expected to live very long, let alone through the night! I decided on a grave site and his burial halter.
I wrote a letter to TRAIL BLAZER and nationally thanked every one of my wonderful endurance friends for sharing the trails with Omner. Tearfully, I scratched from all my future competitions including the FEI Endurance Ride as Omner was selected to represent the Mountain Region Team. I called Jim Zamzow, since Dynamite® Specialty Products was the sponsor of the Mountain Team. Jim was calm, confident and supportive. He sent me some products including SOD™, Dynamite Plus™, Dyna-Pro™, and Super Stress™. He said, "Don't worry, Bev, everything will be just fine."
I was skeptical, but fed Omner his "potion" with a syringe since he was reluctant to eat anything. Within weeks, Omner started to bloom, and regain his strength, power and zest for life. Within three months, veterinarians were amazed! The tumor is now gone and his blood tests are all normal.
This story still brings a lump to my throat, a tear in my eye, a shudder to my heart and warmth in my soul. I can't help but be Dynamite®'s most enthusiastic commercial. I'm convinced it is the best supplement on the market - Omner's my proof!
So, Omner's back to himself and raced more than 1,000 miles this year (1992) including the Tevis, a standing ovation top 10 at the Race of Champions
and six wins, and three Best Condition Awards. He will be awarded his 6,000 mile medallion at the AERC convention.
Omner has been a Dynamite® horse since 1991. As the years have progressed, he seems to become even stronger, with faster recoveries and more powerful performances in training and at the races! Even my "rookie" eight year-old gelding has a heightened performance level as well as over-all better health and appearance.
I've developed a routine to prepare Omner for all his races. It's my "rabbit's foot," my lucky charm ... but, every animal is different so adjustments might be necessary to obtain your optimum performance level.
Here is my secret! ........
The H.E.S.™ supplement is a "power bar" for horses. It really maintains a high energy level throughout the entire ride. Since it is packed with calories, I'm pleased that Omner maintains his weight even on multi-day rides. He considers it a great treat. As a matter of fact, I feed him handfuls right from the saddle, Even the competitions' horses crowd us for a handful. So, three days prior to an event, I'll add one cup H.E.S.™ to his morning and evening feeding. At the noon check I'll pour about 11/2 cups on top of his bran mash. It's really amazing that even horses that will not eat at the vet check or finish will gobble down the H.E.S.™.
The Pre-Race Pac™ is another amazing "rocket fuel" supplement, although your horse does not become "explosive." Omner has improved recoveries, attitude and seems more alert, energetic and animated at the post race vet check, probably because he feels so good. The Pre-Race Pac™ is designed to metabolically assist with energy conversion and transfer and the mobilization of lactic acid from the system.
In marketing Dynamite®, name recognition is very important. I always fill my trailer with buckets of Dynamite® whenever I go for a ride. The ride manager usually allows me a few minutes at the pre-ride meeting to share my story and I donate a five pound bucket for the awards. In Utah Endurance Rides, I'm proud to report that, generally, eight of the top 10 horses are Dynamite® horses. I comment on that fact at the awards ceremony when I present the Dynamite® award. My truck, trailer and car have Dynamite® bumper stickers, my riding helmet has a Dynamite® sticker, and I always wear my "I ride a Dynamite® horse" T-shirt at all endurance rides. So, look out anyone who asks me, "What's Dynamite®?". They could be listening to me for 100 miles!!! I really enjoy writing letters to many endurance riders and sharing my experience with the power of Dynamite®. Most endurance riders are interested and willing to try the product. My vets and farrier are so impressed with the Dynamite® results that they recommend the product to their clients.
It's very gratifying and satisfying to help people improve their own health, as well as the health and performance of their animals. The reward and motivation is in the sincere "Thank You, thank you, thank you." from my clients. So Thank You, Thank You, Thank You Dynamite®!
ed. update: Since this story first appeared, Omner has won the grueling Outlaw Trail 265 mile, five day ride an unprecedented five times , has been Top Ten at the Race of Champions, and was awarded the AERC Hall of Fame Award for 1996. He is 19 this year (1999) and still competing, taking his rightful place in history as one of the sport's all-time greats. For a cancer survivor to ever achieve his previous level of performance, much less surpass his own record, is an amazing testament to his courage. I must add, much of his will to live and subsequent success has come from the incredible love and energy that Beverly imparts to Omner. They are an amazing team and an inspiration to us all. We love you both. J.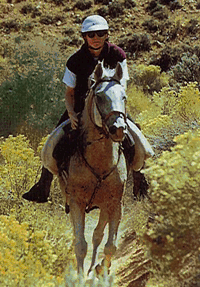 Beverly Gray and Omner