Issue Date:

12/26/2000

Dynamite Results
Congrats Dynamite® Director Aimee Brimhall, now PNH Level 4!! Endorsed PNH Instructor Aimee Brimhall was recently awarded Level 4 distinction, making her the only other Level 4 in the world along with Linda Parelli. Pat Parelli says, "Those of you who have seen Aimee in action will not be surprised by this news..........her skills and savvy are profound!" Here is her Dynamite® story..........
What a wonderful year it has been, and Dynamite® products add to it. I was introduced to the products about 4 years ago and so glad I was. As a person who tries to find totally organic food for myself it was extremely hard to find feed for my horses that I approved of. After reading the information on what goes into feed I now know why!
My horses thrive on Complete Feed™, HES Pellets™, and original formula Dynamite®, DynaPro™, some DynaHoof™ and the free choices. Plus 2-3 times a year they get their much beloved Herbal Tonic™. Hiscorbadyne™ and SOD™ helped my mom's aged gelding battle strangles. It never even broke open. He recovered in half the time (as the vet said) and did better than ever. I have never seen horses with winter coats that shine and are something you want to take to bed to snuggle with. I even notice their manure smells better!
Because I travel with my now Level 4 mare so much, I need her to be covered on all bases. She has done great, and is able to handle the stress of this busy life with ease. Her body has now been free of the many chemicals that the modern world recommends for several years, and shows it with bright eyes, lots of energy, and great weight and condition.
My Jack Russells are "dynamite" dogs. I have a litter a year, and man these puppies come out running and playing. My female has 5-7 pups, a big litter for a 12 lb. dog, and they are all of equal size and I have never lost one. They are on the Chicken/Rice Dog Food™ Showdown Breeder™, DynaPro™and Izmine™.
Thanks so much, Dynamite®, for making these products and marketing them. I recommend them to all my students. Don't know what we would do without you! Thank you, Judy, for all your help and advice, you are a blessing!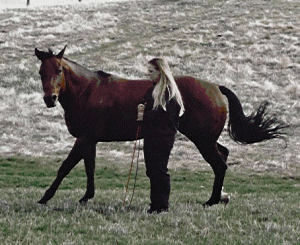 Aimee and Yellowstone Cheserae