April 25, 2008
From Dynamite Distributor Janelle Lear
Here is my oldest Arabian mare Kharisma. Her claim to fame was Endurance and Competitive Trail Riding and she was fiercely competitive before retiring to become a pasture mate for my two Arabians geldings. She has eaten all types of fortified feeds from sweet, to pellets, straight oats and a C.O.B mix. Hay varied depending on where we lived from Coastal to grass hay. I don't like feeding alfalfa. On more than one occasion Kharisma developed too much fat particularly on her rump and got a cresty neck that just got bigger and harder. Thyroid tests indicated low and she was given meds which didn't seem to do much except cost me money. Early in 2005 she foundered (all four feet) and was lame twice more that same year. Kharisma was grossly overweight for a 14.1 hand Arabian. Tried cutting her grain consumption to get the weight off her which worked, but she looked awful; coat was hooky and dull, eyes tended to water a lot, and she had no spirit. Tried another company's supplement for eight months and she looked better but her spark just wasn't there.
Then in the fall of 2007 I began a Dynamite program of Dynamite Plus for my two geldings and TNT for the mare. As a sidebar - they loved the supplements so much they broke into the feed room and I found 30 lbs. of my new supplement all over the floor! Dog loved it. There wasn't enough time to see a difference except that everyone's feces were black. No one got sick. I digress. I bought more supplements! Over the past month or so Kharisma was switched from all grain to H.E.S. Pellets in addition to her TNT. She is just now coming off 7 days of Herbal Tonic; all horses get Coastal hay. Included here are before and after pictures of Kharisma. I'm impressed. Kharisma has her spark and spirit again, no runny eyes, she shed out beautifully--no hooks and not dull. Her neck is coming back to normal and the fat pockets have all but disappeared. Kharisma is definitely doing better off grains. I suspect she has been carb intolerant most of her life. She turned 21 this year. Thanks, Dynamite.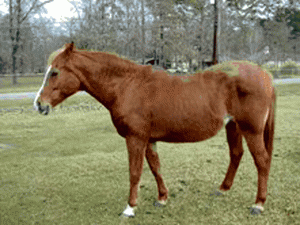 Kharisma before her Dynamite program...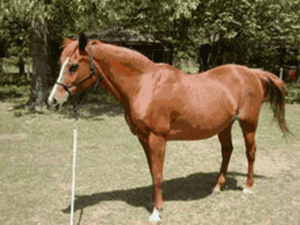 Kharisma now - spring of 2008.