Issue Date:

02/19/1999

Dynamite Results
Foundered Hunter Comes Back
From Dynamite Director Kimberly Mercer, Galt, CA:
"I have a Thoroughbred mare, Kiss-Me-Kate, and as a yearling I showed her in hunter breeding. The competition included her half brother Nate who was showing as a three year old. He was a big beautiful bay, although a little hairy and thin. I talked to the owner about Dynamite and just by looking at how nice my mare was, she became a customer and was thrilled with the results.
Unfortunately, her life took a turn for the worse. A divorce and a bad riding accident which left her with a broken neck along with other serious injuries, caused her horse to follow in the same path of bad luck. While at a boarding stable he ingested Black Walnut in his shavings and as a result he foundered. He was moved to another location to recover, but ended up at UC Davis Veterinary Hospital to be tested for EPM. After a couple of months at the clinic and hefty vet bills they decided it wasn't EPM. Being back home for the winter was not a happy occasion either. The floods of California hit hard, and his home being in the path of the rising waters led to evacuation to a field on higher ground and being left with his barn buddy to fend for themselves for quite some time.
A phone call came from this long lost customer on a cold March day, asking me if I wanted Nate. She couldn't look after him any more and was ready to send him to the killer, as he was dead lame and nobody wanted him. I went to look at him, and my memories of him in the show ring compared to what my eyes saw before me was quite a shock. He was very thin, and apparently had been eating very well and had put on quite a bit of weight in the last 6 weeks. Heaven only knows what he had looked like prior to that!
I took him home, oh, where to start? I immediately put Nate on Dynamite Plus, Dyna Hoof (his feet looked like ski slopes with big moguls) and with the history of founder it was to be a grass hay only diet. The vet came and found his lameness was due to lots of abscesses if not the founder on top of everything, we were going to have to treat this guy in layers. For weeks I soaked this guy's foot with Miracle Clay, then made poultices with it and cut a brown paper grocery sack into the shape of his foot and stuck it on the bottom, it really stayed on, too!
Within 3 weeks, his coat looked so much better, lots of hair was falling out and he was gaining a little weight. We had him X-rayed and it showed a 2-3 degree rotation of his coffin bone, and his feet were inflamed again (probably due to the heavy feedings by his previous owner to try to put weight on him). The vet and my farrier got together and planned out their attack. The vet wasn't sure if Nate would make it back to complete soundness, and if he did, he thought it would be about 9 months before we could do much with him. I emailed Judy Sinner at Dynamite and asked her advice on how we could treat this guy and bring him back. She had me rub in Release on his coronet bands and give him 4 tsp per day of MSM as an anti-inflammatory and blood thinner which would increase the circulation to his foot. We also started him out very slowly on the Complete Grain Ration to help him gain weight.June came and Nate was looking great, he was even sound! We had normal shoes on him with just pads, and I decided it was time to get back to work. By the end of July I was riding him and he has not taken a lame step since. The DynaHoof worked so well and made his feet so strong, he is now not even wearing pads. My farrier is one of the best advocates of Dynamite, and sends quite a few customers my way. He says it makes his job a whole lot easier when he has to work on a Dynamite horse, and he hasn't seen a horse yet whose feet do not improve on the product.
I hope to put Nate back in the show ring in 1999. Thank you so much Dynamite for such wonderful products. Along with a little patience, care and faith, I have a 6 year old who is shining from being given a second chance! Also pictured is Kiss-Me-Kate, my 4 year old (Nate's half sister) who in her first year over fences at "A" rated shows did awesome, won several championships and even took a first in a huge pre-green class at Pebble Beach! Quite an accomplishment for a baby, but she has always been a Dynamite baby, so what else can you expect!"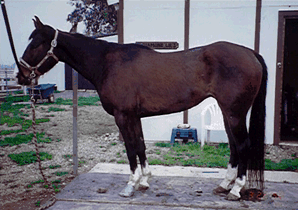 Nate in March 1998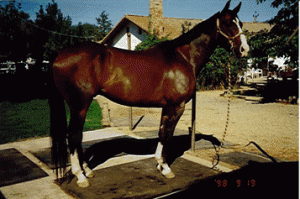 Nate in September 1998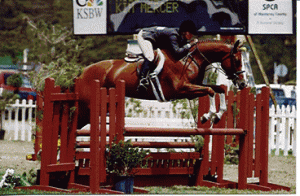 Kim and Kiss-Me-Kate