Issue Date:

10/10/1999

Dynamite Results
Orchids Thrive with Prescription Treatment Rx From Dynamite Director Martha Pilcher; Half Moon Bay, California.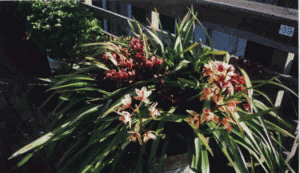 My client lives on a houseboat in Sausalito, California. She became a client after attending one of my Humi-Zyme Rx
seminars. Gardening on a houseboat in the San Francisco Bay presents very special challenges. I recommended Dynamite Prescription Treatment for Plants, Lawns, and Gardens .
She sent along this photo and a short note that said, quite simply:
"This is my orchid on the floating home dock. Over 30 sprigs this year. We had frost, hail, really cold weather. I don't know how it survived.
Oh yes I do... the Dynamite!"