September 24, 2003
From Dynamite® Bronze Director Sally Ann Maas, Redlands, CA
Here is a photo of Polar's Pearl, the highest scoring mare in the American Trakehner Association as of September 2003.
Brad Kerbs, vice president of the ATA and lead jurist on a panel of four, turned to the spectators and just raved about this young mare, age 3, bred and owned by Dynamite rep Gretchen Lasater of Pauma Valley, CA. He gave the mare his first 10 ever in overall impression and gave Pearl the designation Model Mare, a category for young ATA mares with the highest promise for sport and for contribution to the gene pool. Kerbs was effusive in talking about the quality of the mare by Horizon out of Polar Heigh, now 18, a daughter of the stallion Schubert. He also complimented Gretchen publicly for the turnout and overall glow of the horses she presented for evaluation -- not once, but twice. Gretchen has been feeding Regular Dynamite® for about 18 months, and her dam Polar Heigh was on Dynamite
Plus(tm) before she was purchased by Gretchen.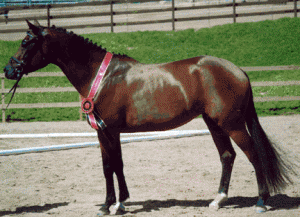 Polar's Pearl (photo by Sally Ann Maas)